What Is Uniting Saypha and Aqualyx?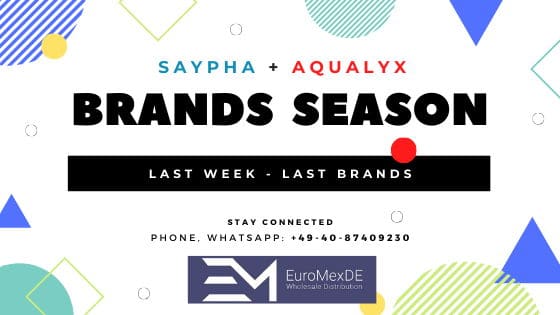 Saypha and Aqualyx. These two products are so different in ingredients, indications, and effects. However, there is one thing uniting them – their revolutionary nature and high effectiveness.
Read further to find out how these products work and what is so innovative about them.
Saypha Filler
Saypha is a recently completed rebrand of Princess fillers produced by Austrian company Croma-Pharma GmbH, one of the world's leading Hyaluronic acid (HA) syringe manufacturers. It is a line of sterile HA-based dermal fillers of non-animal origin that are applied to correct moderate to severe wrinkles and to augment certain parts of the face.
Saypha range is designed by Supreme Monophasic and Reticulated Technology (S.M.A.R.T.) technology that applies revolutionary methods of producing cross-linked HA with dynamic viscosity and high level of homogenization. This ensures the products' ultra safety and high production standards.
The best indications for Saypha treatment include the elimination of parallel forehead wrinkles, nasolabial folds, shallow lines and lips enlargement. The treatment results are temporary, though long-lasting and remain noticeable during 6-12 months.
Saypha Line
Currently, Saypha line represents the following products: Saypha Filler, Saypha Volume, Saypha Rich and Saypha Volume Plus. Every product has its duplicate that contains a dose of Lidocaine. Each solution with its distinctive ingredients was designed to meet the individual needs of every patient. So, let's check them one by one.
Saypha Rich is used to treat age-related dehydration and dryness of the skin. It revitalizes and moisturizes the skin, improves its elasticity and tone.
Saypha Filler is a transparent isotonic colorless gel applied to smooth mild to deep wrinkles and skin folds. It contains high-concentrated cross-linked HA (2.3%) that facilitates natural skin rejuvenation and rehydration. Due to its elastic and viscous consistency, the product is also perfect for augmenting lips, as well as other face parts.
Saypha Volume filler is indicated for correcting more pronounced expression lines, remodeling imperfect facial contours and volume replacement.
Saypha Volume Plus Lidocaine is applied for treating severe wrinkles, enhancing midface volume and shaping the face contours.
The average Saypha Cost varies between €30 and €60 depending on the composition.
What Is Aqualyx?
Aqualyx is an innovative solution aimed to help patients get rid of excess fat in a non-surgical way. Still, this product should not be mixed up with weight loss treatments. Instead, it is indicated for patients that already work on keeping their body fit by regular exercising and following a healthy diet. The main aim of Aqualyx is removing stubborn fat pockets on certain body areas to make the body contours look perfect.
How Does It Work?
Excess fat in a human body is burned with the help of acidic bile produced by the liver. Aqualyx is a synthetic plant-based duplicate of this acid that effectively enhances this body function. After being injected into the fatty sites, the acid dissolves fat cells allowing the body to quickly metabolize it.
Aqualyx Indications
Aqualyx injection is indicated for removing fat pockets in the following body areas:
Thighs
Buttocks
Knees
Hips
Back
Stomach
Chin
Saddlebags
Also, it is used to treat pseudo-gynecomastia (appearance of excess fat around the nipples in men).
How Is the Treatment Carried Out?
Usually, the procedure includes two injections at each problem spot: the first syringe contains Lidocainep; another one is Aqualyx itself. Though sometimes, health professionals mix these two substances beforehand. To reach the optimal effect, the treatment typically consists of several sessions repeating every 3-4 weeks.
How Long Does It Last?
In fact, the fat cells destroyed by Aqualyx cannot restore themselves, as long as you keep a healthy lifestyle and do not allow new fat cells to appear. Eventually, it would not be an exaggeration if we consider Aqualyx effect as permanent.
How Much Does Aqualyx Cost?
The average Aqualyx price is about $200 per 10 vials and depends on the number of injections.
You can calculate the exact price and buy dermal fillers online here.