What a Splash! Radiesse filler and Fillmed are On Stage!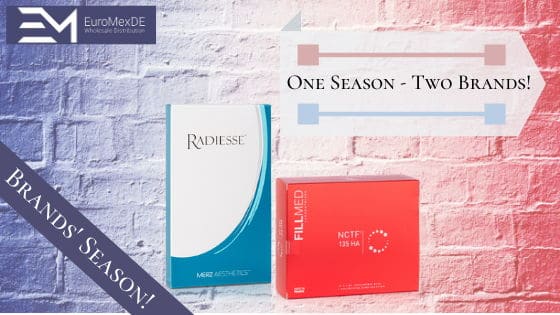 The season of brands from EuroMexDe continues and this time we want to tell you about two dermal fillers – Radiesse and Fillmed (Filorga).
Radiesse filler is an injectable drug produced by Mertz, a German pharmaceutical company. The filler is called a remedy of a new generation because its unique composition quickly eliminates signs of ageing, corrects all facial wrinkles and makes effective skin lifting. The drug is very popular among patients because its administration is painless and doesn't cause serious adverse reactions.
Is it a new drug for dermal correction? No, Fillmed is a remedy with a long history. Previously, the filler was known as Filorga.
The drug is manufactured by the French laboratory (Laboratories FILORGA). The main distinctive feature of dermal fillers from this company is a mesotherapy anti-age complex NCTF (New Cellular Treatment Factor) for skin rejuvenation. Recently, the brand name was changed and now instead of Filorga injections, doctors make Fillmed injections. However, the drug's name is a single difference. The composition remains the same.
More Info about the Radiesse Filler
Radiesse is a dermal filler that doesn't need advertising. The company-manufacturer has thousands of clients from all around the world and the number of admired doctors and clients is constantly rising. The filler was estimated by the leading cosmetology and dermatology clinics as a first-rate remedy for skin correction and rejuvenation. The result after its administration lasts up to 2 years. In some cases even more. Other dermal fillers last only 6-9 months.
The composition includes 2 basic components: calcium hydroxyapatite and a special gel. Calcium hydroxyapatite is a natural and biocompatible substance, thus allergic reactions, redness, rash, itching, and other adverse reactions happen rarely. The structure of calcium hydroxyapatite is similar to bone tissue, that's why the human body doesn't reject it as an alien substance. Radiesse injections restore natural collagen. The skin becomes young and deeply hydrated.
Doctors inject Radiesse into different skin areas:
eyebrows
cheekbones;
nasolabial folds;
folds between the eyebrows;
chin;
cheeks;
crow's feet;
nose;
hands.
The procedure itself takes 15-30 minutes and the effect is instantly visible. Radiesse injections are safe and carefully tested many times. Wrinkles will be smoothed out right after the first procedure and the skin condition will be even better after 2-3 weeks.
Fillmed: Exclusive Formula for Skin Rejuvenation
Fillmed is one of the best drugs for dermal injections. After almost 40 years in the aesthetic industry, the brand takes leading positions among all manufacturers of injectable facial rejuvenation remedies. The procedure itself is simple and safe. The remedy is produced by the French company and the quality of dermal fillers is officially approved. It has a unique composition, achieved after the number of scientific developments, tests, and researches.
The main constituent of Fillmed fillers is hyaluronic acid, that deeply penetrates the skin, rejuvenates and hydrates it. Depending on the skin problems doctors use drugs of different density: mesotherapy drugs (NCTF 135), dermal fillers (X-HA), and surface chemical peels. Doctors examine patients before procedures, determine the problem complexity, and prescribe the filler with an appropriate level of density. It takes a few minutes and the effect is visible right after procedure.
The price of the Fillmed biorevitalization depends on the type of drug, the number of injections, a clinic, the doctor's experience, and even a country or location.
People can have Fillorga injections at any age starting from 18 years. The drug will help in such cases:
too dry skin hydration;
fine and deep wrinkles elimination;
hyperpigmentation;
old and unattractive scars correction.
Final Slice
Strong competitors but the winner is one. No, not today. Radiesse and Fillmed are two effective dermal fillers that eliminate all visible signs of ageing, make the skin fresh and rejuvenated. Leading cosmetologists and dermatologists use and recommend Radiesse and Fillmed.
EuroMexDe is proud to have these medical products in stock. Our company offers only quality and authentic dermal fillers, botulinum products, drugs for mesotherapy and many more.
To buy Fillmed or check the Radiesse cost you can on our website. Launch the product page and choose the product you need. In addition to advantageous wholesale prices, our company offers tempting discounts and special offers for regular customers. Let's create beauty together!