Treating acne scarring with fillers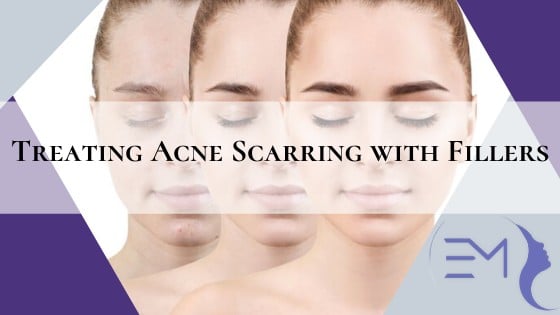 People have thousands of reasons to hate skin diseases, especially acne. Approximately 75-80% of people have faced acne at least one time in life. Usually, teenagers suffer from this problem but it is also widespread among adults. It's a pity but painful inflammations on the face is not the worst part of the disease. Scars and red spots that appear after acne are the most annoying and unpleasant facts about this disease. Acne scarring treatment is a long and complicated process. In some cases, it may take months. But the sooner you start fighting with the skin inflammations the shorter the period of recovery will be. That's why today we're going to speak about different methods of acne treatment especially about using dermal fillers for acne scars. Scroll down if that problem bothers you. We promise: after reading this article you will know how to successfully fight acne. Let's go!
Why You're Having Acne?
Acne is a complex disease that can be caused by a variety of external and internal causes. That's why it is so difficult to get rid of this health problem. Red inflammations occur when the bactericidal function of the skin is reduced and the pathogenic microflora is actively propagated. Briefly speaking, acne happens when the sebaceous glands start dysfunctioning and producing too much sebum. What factors cause acne? There are many reasons why people suffer from this problem and often it's very difficult to identify the causes that triggered the disease. However, the most common of them are the following:
genetically increased sebum secretion;
special kind of skin microflora;
hormonal changes or hormonal disbalance;
hyperkeratosis;
weak immunity;
gastrointestinal dysfunction;
diseases of the internal organs;
frequent stresses;
lack of vitamins;
bad habits;
some kinds of diet;
adverse reactions of medications;
inappropriate cosmetics;
harmful external factors.
Acne Scarring Treatment Methods
Depending on your preferences and doctor's recommendations, there are several ways on how to get rid of acne and post-acne scarring.
1. Homemade herbal infusions.
Like many other diseases, acne has different stages of development. At the earliest stage, when a person has little acne on his\her face it's possible to treat affected zones at home with the help of chamomiles, calendula, sage, mint, lemon balm teas. These herbs perfectly cleanse the skin and relieve inflammation.
2. Medical creams, serums, peelings, etc.
Never ignore acne and consult your doctor. Experienced cosmetologists and dermatologists will examine you, identify your type of skin and reasons that have caused disease. They will also find the most appropriate method of treatment for you and will do everything possible to eliminate ugly scarring and redness of the skin. There can be sebum-regulating masks, soft cleansing scrubs, creams, gels or lotions with antibacterial and anti-inflammatory action, thermal water, refreshing spray, ultrasonic or mechanical cleaning, cryo-massage, chemical peeling, laser application, etc.
3. Dermal filler injections for acne scars.
During the process of treatment, the skin receives a lot of mechanical damage that's why it's very important to biorevitalize its upper layers. Scar filler injections perfectly cope with these tasks. You need only a few procedures to get smooth and fresh skin with a healthy tone. These procedures not only provide the patient with smooth skin relief but also reduce the depth of atrophic scars and prevent pathological growth of connective tissue in the areas of inflammations.
The Most Effective Acne Fillers
When the acne treatment ends, the skin lacks collagen and other natural ingredients. Our body can replenish it but it will take a lot of time before the skin returns to its normal condition. But even then the red spots may remain on the face. To eliminate all unpredictable and undesirable consequences doctors recommend biorevitalization sessions for those patients who experience acne treatment. During the procedure, biologically active substances like vitamins and amino acids, injected into the skin, begin the process of natural rejuvenation. The most popular and most-wanted remedies for such procedures are Radiesse, Sculptra, Juvederm, Teoxane – special gels that replenish the missing skin volume and stimulate natural collagen production. Gradually the substances are removed from the skin but the new collagen frame is maintained for a long time. This triggers dermal metabolic processes, which causes natural skin refreshment. Radiesse acne scars treatment or Sculptra acne scars therapy are both very simple procedures. Each session lasts 20-30 minutes, are painless and the patient observes positive changes immediately.
All remedies are highly accessible and licensed cosmetologists and dermatologists can buy Sculptra and buy Radiesse online on our website. Reach our dedicated support manager now to ask more details about remedies you're interested in or know about our discounts and good specials.