The Most Popular Dermal Fillers in 2019-2020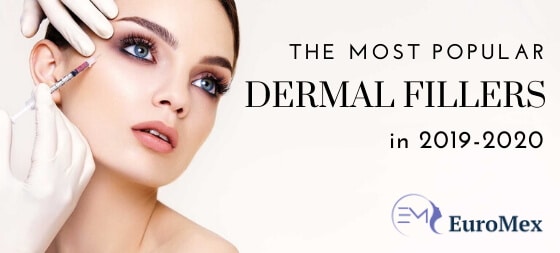 Youth is beautiful, thus our aspirations to preserve the best period of life are natural. There exist plenty of methods on how to improve disadvantages caused by ageing processes: alternative medicine, plastic surgery, and cosmetic treatments. All these means are useful and cause positive effects.
Lately, cosmetologists from all around the world have stated that the most popular beauty procedure were dermal filler injections. This is a reasonable and wise choice. People want to have good, smooth, and lifted skin, attractive lips, and sexy cheekbones, but they're afraid of doing plastic surgery. Today there is no need to do it because you can buy dermal fillers and get the same results. That's why there are so many searches for "dermal fillers online" — the remedies are extremely popular. There exist hundreds of injectable drugs for aesthetic means but today we're going to speak about the most well-known and trendy injectables, people prefer in 2019-2020. Sounds interesting? Let's dive into details! The world of aesthetic industry is more impressive than it appears!
The Diversity of the Aesthetic Medicine Market
As was previously mentioned, many pharmaceutical companies are producing these products, and if you don't want to get messed up in various brands' names, you should know that basically there exist three main types of dermal injectables: synthetic, biodegradable, and non-biodegradable drugs.
To create quality synthetic injectable substance pharmacists have found the ideal formula of synthetic ingredients to make these preparations as similar as possible to natural substances.
Biodegradable products are the safest and the most popular injectables because they're based on hyaluronic acid — the natural ingredient available in the human body. They cause brilliant and natural aesthetic effects, lasting up to 12 months, and then disappear from the body.
Third group dermal fillers (non-biodegradable injections) are based on synthetic ingredients (silicone). These remedies provide the longest effect, but they don't disappear from the body on their own.
We interviewed many cosmetologists, experienced patients, and dermal filler suppliers, and judging by their answers we have selected the most used fillers in 2019-2020.
The Best Synthetic Dermal Fillers in 2019-2020
#1. Ellance. This synthetic filler doesn't cause allergic reactions or dangerous side effects. Polycaprolactone is the main ingredient of the remedy. With the help of Ellance doctors get rid of facial wrinkles, nasolabial folds, visible old scars, thin lips, hollow cheeks, facial asymmetry, etc.
#2. Cosmoderm is based on the collagen of animal origin. Cosmetologists use the product to reduce skin wrinkles, corrects scars and skin imperfections, tighten the sagging skin, etc.
#3. Sculptra. The polylactic acid-based dermal filler provides instant and prolonged aesthetic effect because it makes the body produce its collagen. It's a universal dermal filler you can use for all parts of the body: face, neck, hands, etc.
Best-Selling Biodegradable Injectable Drugs in 2019-2020
#1. Dermal fillers Juvederm are HA-based products produced by the well-known pharmaceutical company Allergan. Fillers cause instant and natural effects that last up to a year. They don't cause harm to the body, that's why the majority of cosmetologists recommend these injections.
#2. Restylane is a product of the Swedish company Q-Med. A wide range of Restylane fillers allows people to choose what they need in all specific situations. The filler can be used for patients of different ages.
#3. Teosyal is also an HA-based remedy. The range of Teosyal fillers is divided into 2 groups: the remedies with Lidocaine and dermal fillers without it. The drug has a very delicate effect on the skin and does not affect facial expressions.
Non-Biodegradable Dermal Fillers Worth Considering in 2019-2020
#1. Bellafill is a collagen-based filler that corrects traces of small post-acne scars or other imperfections. Its gel consistency provides the skin with volume stimulating the natural collagen production processes.
#2. Radiesse. The remedy is effective for facial tissue restoration and it's also used by dentists and surgeons. Radiesse is a calcium hydroxyapatite-based drug. It also doesn't cause allergic reactions and perfectly copes with wrinkle elimination, nasolabial folds correction, facial lifting, etc.
#3. Silicone is a cheap but effective alternative to expensive dermal fillers. It causes an instant result that lasts forever. But some side effects may appear because the body rejects the alien substance.
Epilogue
All the drugs that we discussed in this article were the definitive leaders in the aesthetic medicine market in 2019. We're confident that in 2020 they will remain in their leading positions. To keep up with the trends, we recommend you to order dermal filler wholesale. Check the prices on our website where you can buy dermal fillers online. Great discounts and special are here!