Stylage vs Juvederm: Strong Competitors but the Winner Is Only One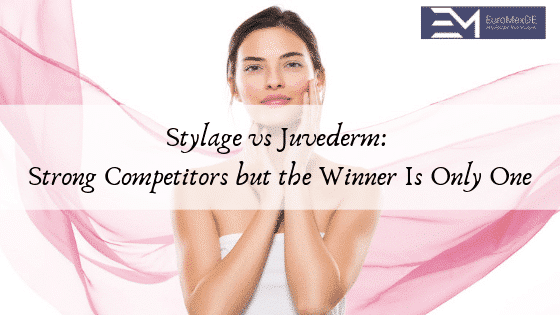 Dermal fillers injections are increasingly popular cosmetic procedures nowadays. You can use them to correct a lot of imperfections of the appearance. Beauty injections are capable to eliminate deep lines between the eyebrows, smooth out wrinkles around the mouth and eyes, correct the chin or cheekbones lines, add the missing volume to lips, etc. Many patients choose dermal fillers instead of making surgery because such a procedure is safer and with a lower risk of getting the infection. Patients have not to worry if result doesn't satisfy them. Unlike operations performed by plastic surgeons, beauty injections cause temporal effect and don't remain on the injected area all the time. 
Among the considerable variety of dermal fillers available in the market, there are unbeatable brands which remain on the top positions due to their efficiency and demand. Is it possible to determine the best of the best? Let's try to compare two serious competitors and find out which one is stronger. 
Stylage vs Juvederm: Who Wins Hearts and Minds
Stylage is the hyaluronic acid-based dermal filler produced by French brand Vivacy Laboratories. The company became the first who have started to include an anesthetic Lidocaine and antioxidant mannitol and due to this the preparation still is one of the most demanded medicines in the aesthetic industry. 
Stylage filler is available in several versions, this provides doctors with the opportunity to choose the most appropriate type with optimal dosage for injection. Stylage is designed to smooth out different wrinkles like forehead deep lines, crow's feet, nasolabial folds, correct chin or cheekbones lines or improve lips form. Since it contains mannitol, Stylage lip filler not only protects the delicate skin of the lips but also significantly increases the duration of the remedy. This feature patients like the most, because the blood circulation at the lips area is increased and hyaluronic acid disappears more quickly. In return, Stylage lips effect lasts up to 9 months. 
Juvederm is the undisputed leader in the market of dermal fillers. Mainly, doctors use the gel for wrinkle correction but it is also highly effective for lips contouring. It causes not only the lifting effect but also makes the skin smoother, adds the missing volume and moisturizes lips making their contours brighter. Juvederm is also hyaluronic acid-based dermal filler complemented with phosphate buffer and Lidocaine. The majority of clients admit Juvederm's quality and efficiency, convenience in use, and absence of side effects. 
Comparing these two, it's important to consider individual characteristics of each patient, possible side effects, doctor's recommendations, etc. Concerning prices, to buy Stylage dermal filler would be cheaper than ordering Juvederm. 
How-and-Where-to-Buy Tips
Choosing the appropriate dermal filler is only a half of way to perfect injection effect. If you don't want to fall into the trap and buy a counterfeit, make an effort and look for a reliable supplier. 
EuroMexDe welcomes you to buy Stylage or Juvederm from our website. We offer only authentic products and provide medical specialists from the whole world with safe and high-quality medication. Make a purchase right now to estimate our work and get your order in the shortest terms with fast delivery to any corner of the world. You can also reach our support team to ask additional questions or get extra information. EuroMexDe is always at your service!