Restylane vs Juvederm for Lips: What's the Difference?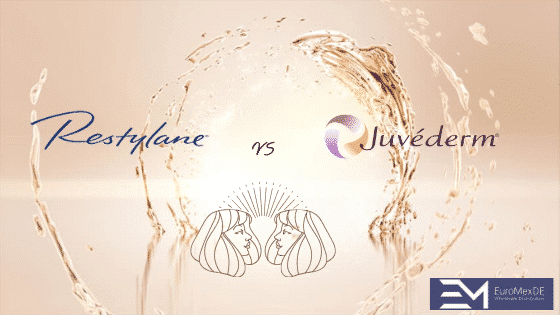 Time flies with crazy speed, and in this incredible and at the same time terrible fuss, sometimes we may even not notice changes in our appearance. When you look at the mirror one perfect morning, and observe that your lips are no more attractive as previously, you're greatly shocked. When did it happen? Well, don't panic, keep calm and simply consult your doctor. Obviously, he\she would recommend using dermal fillers for lips form correction. But which one to choose from the astonishing variety of such drugs on the market. In this article, we're going to compare two giants in the beauty industry. Keep reading and see who is the winner in the Juvederm vs Restylane lips correction battle. 
Juvederm vs Restylane Lips Injections: Who Wins a Patient's Heart
       Juvederm or Restylane – that's almost a classy question for both: doctors and patients. Two drugs produced by famous and trusted brands with well-deserved reputation and millions satisfied clients from all around the world. Tough to say which one is better. Let's dive into details to fully clarify all the properties and characteristics of both medicines for lips' correction procedure. 
Who we are dealing with?

Juvederm and Restylane are two types of dermal fillers developed to treat different facial imperfections with the help of wrinkles correction, lips augmentation, facial contouring, etc. Both remedies are based on the hyaluronic acid – a substance naturally occurred in the human body and responsible for skin elasticity. Juvederm, as well as Restylane treatment, are performed in a nonsurgical way smoothing out wrinkles or correcting lips form by adding the missing volume to the particular areas. For lips injections doctor use Restylane Silk (it may augment lips as well as correct the form) and Juvederm Ultra XC (for plumping up the lips) or Juvederm Volbella XC (for improving vertical lips lines).

The number of risks and side effects.

Like any other medicine using Restylane or Juvederm for lips injections may cause side effects like swelling, insignificant redness or short-lasting bruising at the injection area. These symptoms are temporary and disappear at all after a while. Serious side effects aren't excluded at all but happen rarely. We mean scars or losing colorful pigment. Restylane vs Juvederm – the side effects are very similar. For instance, both Restylane Silk or Juvederm may cause numbness because, to lessen the pain, doctors inject remedies with Lidocaine. 

Procedure's duration.

Restylane and Juvederm injections take only a few minutes and proceed with only one doctor's office visit. Moreover, comparing lips augmentation with the rest of the procedure, the first one takes the least time. 

Which one is more effective?

Both dermal fillers are claimed to make a decent result by the use of Hyaluronic Acid. Restylane lasts in lips approximately 6 months whereas Juvederm tends to last a bit longer – from 6 to 12 months. Generally, the result is visible right after procedure. But to see the final result after Restylane injection procedure you have to wait a few days, while Juvederm effect is instantly visible and with the right care may last for about a year.

Compare prices.

Restylane vs Juvederm cost also doesn't differ a lot. If you plan to use Restylane be ready to pay from $300 to $650 per one procedure. In case you choose Juvederm, the price would be approximately $600

.

We agree it's not a cheap service but what if there would be an opportunity to save some money? We mean to buy Restylane wholesale for example. Many services are offering to reduce prices if the client buys wholesale. EuroMexDe is one of these companies. We cooperate with reliable manufacturers and sell authentic dermal fillers wholesale at reduced prices. Check it out for yourself to be sure we suggest the best prices ever. 
Final Slice
       Comparing two players is always an interesting task but examining in contrast two strong players is an exciting challenge. Both Restylane and Juvederm are effective and quality dermal fillers. The remedies were tested by numerous doctors and now cosmetologists, dermatologists, and plastic surgeons recommend these drugs in the first turn. Consider all pros and cons before choosing a dermal filler, read the useful info, and consult the doctor, of course. If you have already made a choice, welcome to our website – we exactly have what you need.  
       Buy Restylane online as well as buy Juvederm online directly from our website or reach our support manager to ask how much does Juvederm cost wholesale or any other related question. We're always at your service!