Radiesse vs Fillmed Filler: Brief Interviews!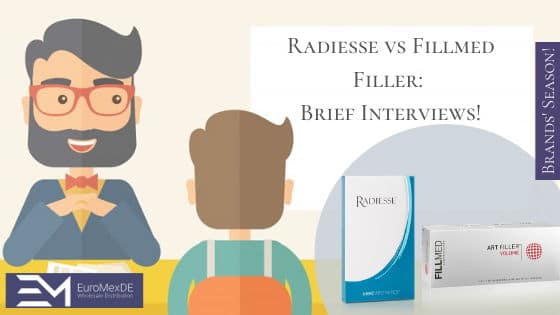 Special season and special brands! We continue speaking about Radiesse and Fillmed. But…in a little bit different way. Aren't you tired of standard and serious articles? We suppose, you are. That's why we've decided to be creative and present two dermal fillers as two alive persons. Why not interview them? Let's see how it works!
Radiesse: "Yes, I'm a star, but fame didn't spoil me!"
Welcome to read 5 questions we've asked Radiesse. You'd be impressed by the answers. 
Where does Radiesse come from?
His motherland is German, Frankfurt. Radiesse is produced by Merz Pharma – a famous global pharmaceutical company with affiliates across the whole world. Radiesse is one of their best selling products. The story of the product began in 2006, when Radiesse was approved by the FDA for correcting medium to severe facial wrinkles. Now it is one of the favorite dermal fillers of worldwide leading medical professionals. The remedy solves most of the facial dermal problems by adding volume to skin tissues. Radiesse also corrects nasolabial folds and smooths out deep wrinkles at the corners of the nose and mouth. 
What is Radiesse's profession?
It works as a volumizer. The drug makes the face young and refreshed for a long time. With the help of the remedy, cosmetologists completely remove the nasolabial folds, bruises, strengthen the line of the lower jaw, correct the shape of the chin. It is also used to increase the cheekbones and restore the facial volume. Immediately after administration, the gel replenishes the volume and instantly smoothes wrinkles. Its composition is similar to human bones structure, therefore it has excellent compatibility with the body.
How long does it live?
Radiesse is a temporal dermal filler. The effect after injection disappears after a while and the patient should repeat the procedure to maintain it. The effect duration depends on the Radiesse injection sites. In most cases, it lasts one year or even longer. 
How fast and efficiently does Radiesse work?
The effect is visible immediately after the procedure and the patient can return to his routine without any difficulties. Radiesse's composition includes calcium-based microspheres that are similar to minerals found in the human body. That's why the gel easily distributes under the skin and the chances of the substance rejection are low. Patients don't have to take any tests because there can't be allergic reactions. Right after injection, the filler volumizes the skin tissues smoothing out wrinkles and unattractive lines. Then, the drug stimulates new collagen production and the effect of rejuvenation remains even longer.
Does it come along or with side effects?
Sometimes Radiesse causes adverse reactions. The most common of them are bruising, little redness and swelling, insignificant pain or itching. These adverse reactions are temporal and disappear in a few days. In very rare cases a patient can get more serious side effects. That's why it's recommended to consult a doctor before injecting the drug.
Fillmed: " New name doesn't mean a new life. I'm still the same!"
Recently, the brand has changed its name, and we want to know about possible changes. 5 questions for Fillmed.
Who is Fillmed? 
It is a dermal filler produced by Laboratoires Filorga – a famous aesthetic industry company with a 35-year history. The company is based in France and produces one of the most recommended dermal fillers in the world. Most people know it as Filorga. Many people still are confused and ask about the Filorga filler. All of them should keep calm because the name is the only change, the composition remains the same.
What's the role of hyaluronic acid? 
Hyaluronic acid is the main constituent of the Fillmed gel. This is a natural substance that exists in the human body. It helps to restore the missing volume, refreshes, and hydrates the skin. Also, HA acts as a natural collagen stimulator that helps to maintain the effect for a very long time. 
What is NCTF? 
NCTF is what Fillmed is famous for. It is an exclusive formula of concentration various ingredients for skin rejuvenation like vitamins, amino acids, minerals, etc. There are several types of Fillmed NCTF drugs responsible for the different areas treatment:
NCTF 135 (corrects insignificant imperfections of young skin);

NSTF 135 HA (eliminates little and middle wrinkles, smoothes the skin of the face);

NSTF HA (corrects wrinkles and sagging skin, moisturizes dehydrated areas, as well as eliminates the consequences of taking hormonal drugs or age-related changes.
What are the main advantages of Fillmed?
Fillmed is not just a dermal filler for facial contouring. The company-manufacturer produces clever cosmetic products that work exactly where it is necessary. Fillmed is a very safe drug that was researched many times by professional doctors. Clinical studies confirm that these fillers provide high efficacy of skin correction while minimizing the risks of granulomas. It doesn't cause serious allergic reactions and side effects. Unlike other drugs, Fillmed simultaneously restores volume and smooths the relief and unevenness of the skin. 
Who are the main competitors of Fillmed?
Aesthetic industry constantly announces new product releases, innovative formulas, etc. Currently, there are many quality dermal fillers. Fillmed is one of the leading products in the beauty market and doctors constantly recommend it for their patients. However, several drugs compete with Fillmed. For example, Restylane, Juvederm or Aqualyx are worthy opponents. 
Where Can You Buy Fillmed online or Order Radiesse?
Euromex offers quality and authentic dermal filler products at budget prices. On our website, you can find the Radiesse cost, buy products at wholesale prices or consult our sales managers. We cooperate only with reliable suppliers and guarantee first-rate and in-time delivery. In addition to beneficial prices, we offer advantageous discounts and promo-campaigns. Don't waste your time, buy Fillmed or Radiesse right now! We're sure, you'd like our service.