Lip Augmentation & Wrinkle Reduction with Juvederm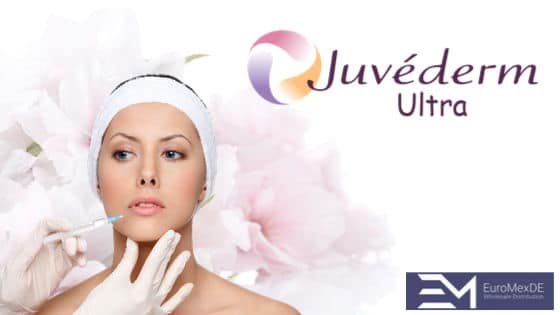 Comfortable procedure, long-lasting effect, and minimum side effects. Dream? No, just pure reality. The action of Juvederm was highly evaluated by many doctors. All of them claim that the drug is highly effective due to its unique and natural structure. It doesn't cause serious allergic reactions, thus it can be injected even hypersensitive people.
The drug is produced by the American pharmaceutical company Allergan, also known as the main Botox manufacturer. Juvederm from Allergan is not only a single product. The full product line consists of more than 10 kinds of fillers. Each of them is developed to correct certain skin areas. In this article, we're going to talk about Juvederm Ultra for lip augmentation and wrinkle correction. Let's consider all the pros and cons, discuss the action and the effect of the remedy, determine possible adverse reactions, and find where to buy Juvederm online at a reasonable price.
Juvederm Ultra – Down to the Last Detail
All Juvederm fillers are hyaluronic acid-based. The remedies are natural and don't cause damage to patients' health. Hyaluronic acid is a substance naturally available in the human body and responsible for collagen and elastin production and general skin hydration. Additional injections of HA not only fill in folds, smooth out wrinkles and add missing volume to the skin areas but stimulate natural processes of rejuvenation making long and appreciable effects after the procedure.
Juvederm Ultra is used to treat facial lines and wrinkles as well as superficial locations. It is a very light dermal filler that perfectly suites to treat wrinkles and hollows that appear around the eyes and lips, where the lines tend to be finer and more delicate.
After many histological tests, Juvederm Ultra was proclaimed as a dermal filler with a very high percentage of biocompatibility of hyaluronic acid with human skin cells. But the main distinctive feature of Juvederm Ultra is Lidocaine. It is included in the remedy to lessen the pain during the drug's administration.
Depending on the gel density, there are several types of Juvederm Ultra:
Juvederm Ultra 2 – the filler is designed for the upper skin layer injections to correct insignificant small forehead wrinkles, wrinkles around the mouth and around the eyes;
Juvederm Ultra 3 – is used to highlight lips contours, correct different wrinkles and "fight" all signs of ageing. Juvederm lips injections are very popular among doctors and patients because the drug causes a powerful and long-lasting effect;
Juvederm Ultra 4 – is introduced in the deeper skin layers to fill in large nasolabial folds and augment lips;
Juvederm Ultra Smile – the drug is specially designed to rejuvenate the skin around the mouth. The filler restores the lips volume, improves the contour, and eliminates small wrinkles;
Juvederm Hydrate – moisturizes the skin and improves its elasticity.
Juvederm Ultra Plus – this filler has a high degree of density and better suits for adding volume to cheeks and lips. Doctors also use it to correct wrinkles of the neck and smooth the skin of hands.
Final Slice
Nowadays Juvederm injections become even more popular than Botox treatment. With the help of the remedy doctors correct forehead vertical and horizontal wrinkles, eliminate wrinkles around the mouth, nasolabial folds, crow's feet, etc.
Patients who need corrections of different areas may get several injections of various Juvederm fillers. For example, if you want to smooth out small wrinkles and add volume to lips, the doctor will use two fillers, for example, Juvederm Ultra 2 and Juvederm Ultra Smile.
EuroMexDe – an international supplier of medication for aesthetic procedures. We offer only quality and authentic dermal products, botulinum toxins, creams, serums, anesthetics, etc. Our customers can buy Juvederm Ultra 4 online or other medication at any time.
Cooperation with our company is a winning solution for those who buy in big quantities.Buy Juvederm wholesale and benefit from our reasonable prices and advantageous propositions.